Are you ready?
Deploying IPv6: The Time Is Now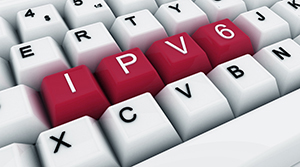 IPv4 address scarcity is a very real issue worldwide. Meanwhile, the Internet keeps on growing, and the demand for Internet addresses will only continue to grow.  The deployment of IPv6 is imperative to the long-term growth and stability of the Internet.
Key Messages
IPv6 is the next generation IP addressing system that was created in the 1990s in response to the clear need for a greater number of Internet addresses than IPv4 could offer.
IPv6 allocations are being made all over the world. A significant percentage of ISPs and operators in each Regional Internet Registry (RIR) service region have already obtained an al- location of IPv6 address space from their RIR, with more than 20% of Autonomous Systems currently announcing IPv6 addresses to the public Internet.
Many of the world's major ISPs and mobile network operators, including Verizon Wireless (USA), StarHub Cable (Singapore), Chubu Telecommunications (Japan), Kabel Deutschland (Germany), Swisscom (Swiss), T-Mobile USA (USA), Internode (Australia), and Telefonica (Peru) are providing IPv6 commercial services to both business and residential customers.
If your company depends on the Internet, then it will depend on IPv6 as a critical part of its future. Now is the time to be asking those who provide you with Internet services and expertise – whether they are ISPs, technology vendors, data centres, developers, staff, or consultants – how they will support IPv6 in future?
The need to move to IPv6 has been known for years but many organizations have opted to defer the investment until really necessary. As IPv4 addresses continue to become more scarce, we can expect IPv6 adoption to keep following its current growth trajectory, and hopefully accelerate.
You must consider how your network will communicate with both IPv4 and IPv6. Organizations must be connected to both the IPv4 and IPv6 networks (i.e. "dual-stacked") to ensure everyone on the Internet can communicate with their websites and email servers.
IPv6 adoption is necessary to support any applications that require ongoing availability of contiguous Internet number resources.
The costs associated with moving to IPv6 can be minimized by planning ahead – for instance, by ensuring IPv6 capabilities are gained within the normal hardware and software upgrade cycles.
All organizations should make their websites and other public-facing services available over IPv6 – this is particularly important for those applications which want accurate metrics, such as user location and those doing streaming applications (as both of these features are impacted by the translation gateways used to reach IPv4-only websites.)
Frequently Asked Questions

What is IPv6?
To account for the massive expansion in Internet-enabled services and devices, a new system of addressing had to be introduced to ensure enough unique IP addresses were available. The Internet Engineering Task Force (IETF) developed the new protocol, IPv6, which allows for 2128, or roughly 340 trillion trillion trillion, unique IP addresses. IPv6 addresses are 128-bit addresses, expressed in hexadecimal notation (for example:
2001:DB8:8::260:97ff:fe40:efab).
This huge number of addresses is expected to accommodate the predicted expansion of the Internet and Internet-related services well into the future.
IPv6 was introduced in 1999 and has been in use ever since. This means that the core standards are stable and have been extensively tested in research and operational contexts.
What can I do?
Government organizations: Coordinate with industry to support and promote awareness and educational activities. Adopt regulatory and economic incentives to encourage IPv6 adoption. Require IPv6 compatibility in procurement procedures. Officially adopt IPv6 within your government agencies.
Broadband access providers: Your customers want access to the entire Internet, and this means IPv4 and IPv6 websites. Offering full access requires running IPv4/IPv6 transition services and is a significant engineering project. Multiple transition technologies are available, and each provider needs to make its own architectural decisions.
Internet service providers: Implement a plan that will allow your customers to connect to the Internet via IPv6 and IPv6/IPv4, not just IPv4. Businesses are beginning to ask for IPv6 over their existing Internet connections and for their co-located servers. Communicate with your peers and vendors about IPv6, and confirm their timelines for production IPv6 services.
Internet content providers: Content must be reachable to future Internet customers. Plan on serving content via IPv6 in addition to IPv4 as soon as possible.
Enterprise customers: Email, web, and application servers must be reachable via IPv6 in addition to IPv4. Open a dialogue with your ISP about providing IPv6 services. Each organization must decide on timelines, and investment level will vary.
Internet equipment vendors: There was probably limited demand for IPv6 in the past. Demand for IPv6 support will become mandatory very, very quickly. Introduce IPv6 support into your product cycle as soon as possible.
Find out more
Find out more about IPv6 deployment in your region from your local RIR: